Ruesi datton (thai yoga) courses
Ruesi Datton is an aspect of traditional spiritual healing art and culture. It consists of breathing exercises, self-stretches, self-massage, acupressure, dynamic exercises and meditation. Reusi Datton is a method for treating oneself and maintaining one's own physical and mental health. Ruesi Dutton (Thai Yoga) course will be a powerful practice, with focus on restructuring spine, adding flexibility to diaphragm, expanding your lungs, strengthening cardiac muscle and stimulating nervous system that will ensure better organ functions. "Ruesi" or "Reusi" means an ascetic Yogi or Hermit and "Datton" or "Dutton" means self-stretching exercises.
Our Thai Yoga training supports students in deepening their understanding
of comprehensive methods of accessible and appropriate practice; our approach is therapeutic, supportive and enhanced by Thai traditional massage art. People who wish to perform advanced Thai massage should first learn this traditional Thai yoga. We offer a total of 200 poses lesson divided in 2 levels of 100 poses.
RUESI DATTON (THAI YOGA) BASIC TRAINING
This Thai Yoga (Rue-Si Datton) Basic Course focuses on breathing correctly to increase the opening of the diaphragm and thoracic in order to bring more oxygen to every cell in the body for stimulation of endorphin creation. This will improve the immune system and protection the body from harmful diseases and living a healthy and long life. Regular and correct stretching improves circulation and stimulates the elasticity of the blood vessels, relaxes all the muscles and organs as well as articulation movement by follow the energy lines. The course will lead the students through the proper techniques including key alignments, modifications, variations, and contraindications; use of basic Thai yoga props and learning total of 100 poses.
Course fee: 9,000 baht/10 hours/5 days/2 hours per day
Lesson start 3pm. – 5pm.
---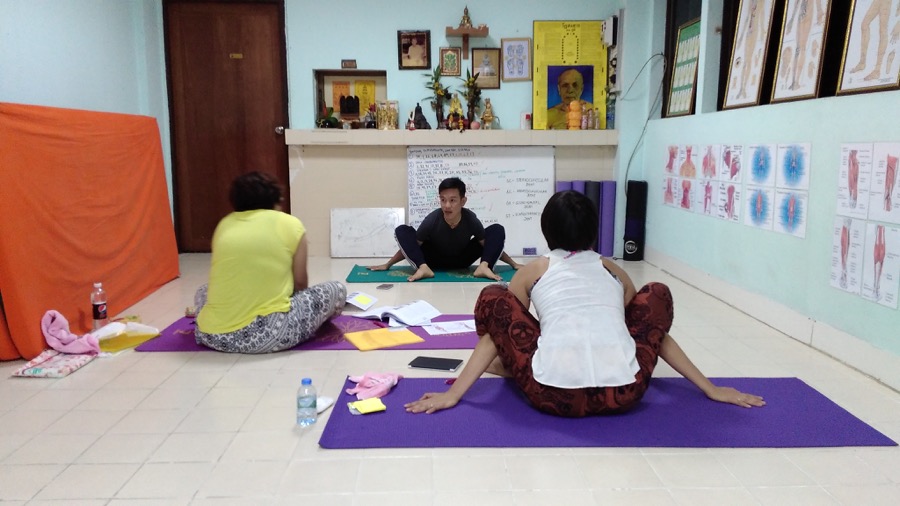 RUESI DATTON (THAI YOGA) PROFESSIONAL TRAINING
This Thai Yoga (Rue-Sri Datton) Professional Course focuses on dynamic bodywork therapy (Thai yoga therapy & treatment) based upon Thai energy lines, anatomy and physiology. Learn how to perform diagnostic body check and to fix the symptoms in spine and muscles. All pain and tension accumulated in the body will disappear. Thai Yoga massage will also be introduced for comfortable and safe adjustment of the course students. More100 poses will be learned.
Course fee: 15,000 baht/10 hours/5 days/2 hours per day
Lesson start 3pm. – 5pm.
---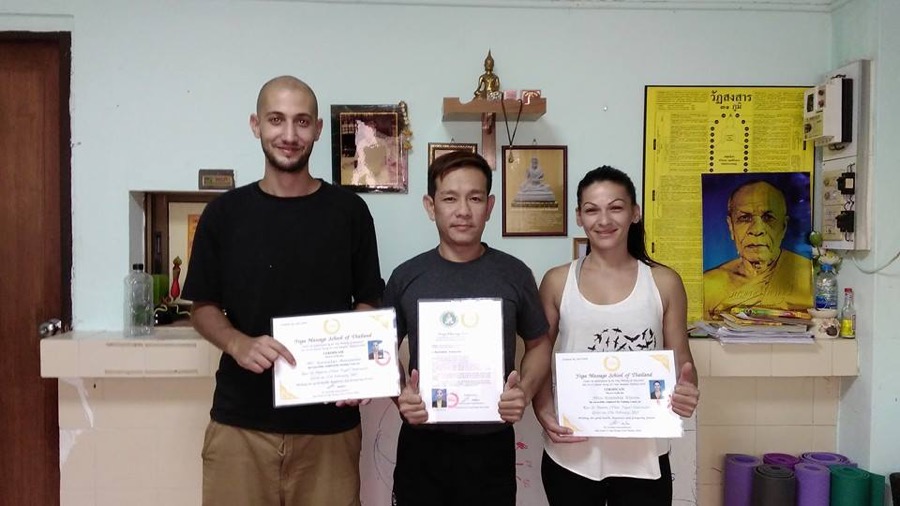 THAI YOGA (RUESI DATTON) TEACHER TRAINING LICENSE (SCHOOL NETWORK)
One by one trainings with our teachers will strengthen your own teaching techniques. You will assist in observation and teaching during students practice in Basic & Professional Courses. By the end of the course, students will gain practical experience in teaching other students and will be able to teach Thai yoga with confidence as well as to create their own Reusi Datton sequences. We will also share our extensive expertise on Thai yoga teaching in groups or in private classes, and setting up your own Thai yoga school. We will also share the art of adjustment techniques, teaching methodology and teaching practice during this course.
Course fee: 35,000 baht/10 hours/5 days/2 hours per day
(Provide Instructor certificate which enable to teach and issue certificate in Basic & Professional Course)
Lesson start 3pm. – 5pm.