THAI FOOT REFLEXOLOGY COURSES
Our school offers courses, ranging from beginners to teacher training, which are taught by President and Vice President of Foundation for Development of Foot Reflexology Thailand (FDFRT), who have more than 20 years of experience. Department of Thai Traditional and Complementary Medicine (Ministry of Public Health) acknowledged our school as the most famous Thai Foot Reflexology currently present in Thailand. The origins of Thai Foot Reflexology School in Thailand was founded in 1995 based on methodology known as Foot Acupressure 62 Points that originated in Egypt 4,200 years ago. It is a healing massage performed on the feet using fingers, knuckles, and sometimes a short wooden stick. Reflex points are stimulated in order to treat specific internal organs and body parts (Natural Medicine) which are different from Foot Massage style. We focus on training students to become successful "Thai Foot Reflexologists" as well as to become "Teacher & Instructor" at their own country.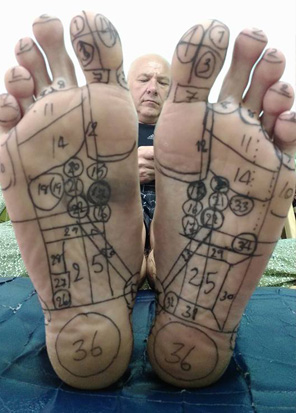 THAI FOOT REFLEXOLOGY BASIC TRAINING
Thai Foot Reflexology teaching ensures your ability to apply Thai Foot Reflexology 62 points on a sole of foot, Dorsal foot, Medial foot and Lateral foot. It's is a lifetime gift to bring home to family and friends, or add on to massage professional career. Our teaching technique and systematic training will enable students to follow the teacher's demonstration easily by drawing on the feet for more accuracy using provided charts and textbook, and to subsequently learn many styles and techniques of pressing on the effective reflexology points using fingers and knuckles in order to stimulate the internal body organs. Students will learn how to work with the reflex points located on feet, which correspond to each organ and system in body. Emphasis is placed on a hands-on technique used to loosen up and relax the feet as well as to encourage the body to naturally restore its own healthy balance.
Course fee: 9,000 baht/25 hours/5 days/5 hours per day
Lesson start 9am. – 3pm.
---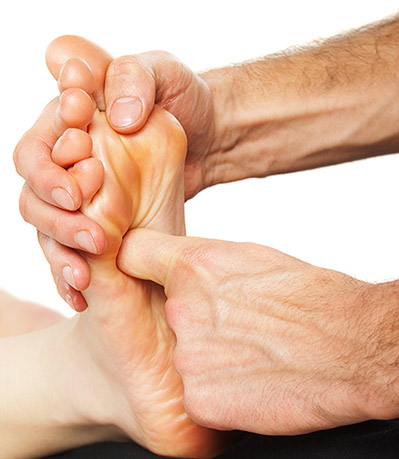 THAI FOOT REFLEXOLOGY PROFESSIONAL TRAINING
In this reflexology training, students will be taught the advanced techniques of applying pressure using thumbs, fingers and knuckles on smaller effective points of reflective zones. More time will be spent focusing on legs, hands, arms, neck, shoulders and on how to fix the spine (chiropractic). You will learn how to check imbalance organ from feet by applied anatomy and physiology for foot massage. There will be plenty of practice on how to work properly on acupressure points and how to combine them in a Thai massage for effective healing. Workbook with chart will be provided.
Course fee: 15,000 baht/25 hours/5 days/5 hours per day
Lesson start 9am. – 3pm.
---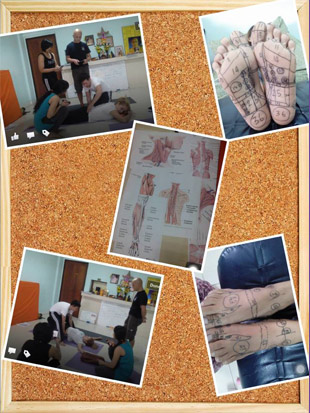 THAI FOOT REFLEXOLOGY TEACHER TRAINING LICENSE (SCHOOL NETWORK)
The course's primary focus is on improvement of students' skills by reviewing Basic and Professional lessons one by one with teacher. Students will have an opportunity to participate in the students' demonstrations during daily lessons, to assist in observation and teaching of the other students' in Basic & Professional Courses.
Course fee: 35,000 baht/25 hours/5 days/5 hours per day
(Provide Instructor certificate which enable to teach and issue certificate in Basic & Professional Course)
Lesson start 9am. – 3pm.